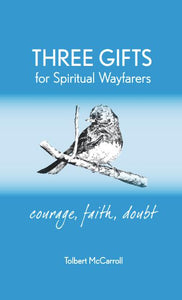 Three Gifts for Spiritual Wayfarers: Courage, Faith, Doubt by Brother Tolbert McCarroll
How do we have confidence in our ability to deal with each experience we encounter? Where will we find the strength to follow our personal spiritual compass and act in ways that take us out of our comfort zone? Can we look at doubt as a tool for leading us to new understandings instead of thinking of doubt as our enemy? These are significant questions which each of us faces, regardless of the words we use to express them.
Brother Toby uses the themes of Great Faith, Great Courage, and Holy Doubt as he takes on these questions in this wonderful book.  It is short, but it is not a quick read.  Toby's insights give us much to ponder as we read and re-read his compelling thoughts.  Toby's sharing can provide the self-reflection needed to reach an understanding of the self that we truly are.