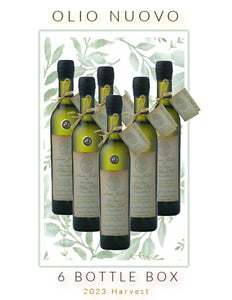 Olio Nuovo - November 2023 Harvest

Sister Julie's Organic Extra Virgin Olive Oil: Olio Nuovo 
The first oil of the season! This freshly pressed oil is prized by chefs for its unique, robust and peppery flavor, and is truly a once-a-year treat, only available directly after harvest. Greatly appreciated by the gourmets on your gift list!
Support small, local farming & production with a purchase of Starcross Produced Organic California EVOO. Extra Virgin Olive Oil is a healthy addition to your kitchen and makes a great gift! Our oil is Certified Organic and certified Extra Virgin by the California Olive Oil Council.
Please store away from direct sunlight to maintain freshness of flavor. Our 375 ml bottles are dark, UV-resistant glass to ensure quality. Each bottle of Olio Nuovo is hand-bottled, hand-labeled, hand-packed and shipped with care from our farm to your kitchen!
Box Includes: 6 Bottles (375ml ea) 
If you have questions or are looking for more information on shipping & gifting, visit our FAQ page.